Satanstompingcaterpillars
was a band consisting of the artists
Tobacco
and
Power Pill Fist
that existed between 2000 and 2002. In 2002/2003,
Black Moth Super Rainbow
were formed when the members
Father Hummingbird
,
The Seven Fields of Aphelion
, and
D. Kyler
were added to the lineup. Although
Satanstompingcaterpillars
directly preceded
Black Moth Super Rainbow
, the musical styles of the two projects differ markedly. Take a listen for yourself and see...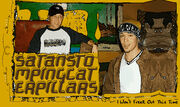 Band Biography
Edit
According to an interview in 2001 by LAS Magazine, the band was created after the band Allegheny White Fish released The Anti Freakout Method, after having an episode with the third member.[1]
"At the beginning of it, the first five or six songs are absolutely insane, but when he started writing really personal songs, it "anti-freaked" him. That was the whole idea. That's where Flower Slides came from." -Power Pill Fist
"Yeah, Flower Slides is more personal, and everything changed, so I changed the name, and I changed the ideals. Somebody said something about Flower Slides that I really liked: it reminded them of the point where, when you're drowning, you realize there's nothing you can do, and you just accept it. I think that's another thing that helped me make the new CD, and to be happier." -Tobacco
Discography
Edit
Full Lengths
EPs & Singles
References
Edit
Ad blocker interference detected!
Wikia is a free-to-use site that makes money from advertising. We have a modified experience for viewers using ad blockers

Wikia is not accessible if you've made further modifications. Remove the custom ad blocker rule(s) and the page will load as expected.